Sunday, February 8, 2009
Labels: Kaiten, Pearl paint, Tips, WIP, Zoids, 回天
0 comments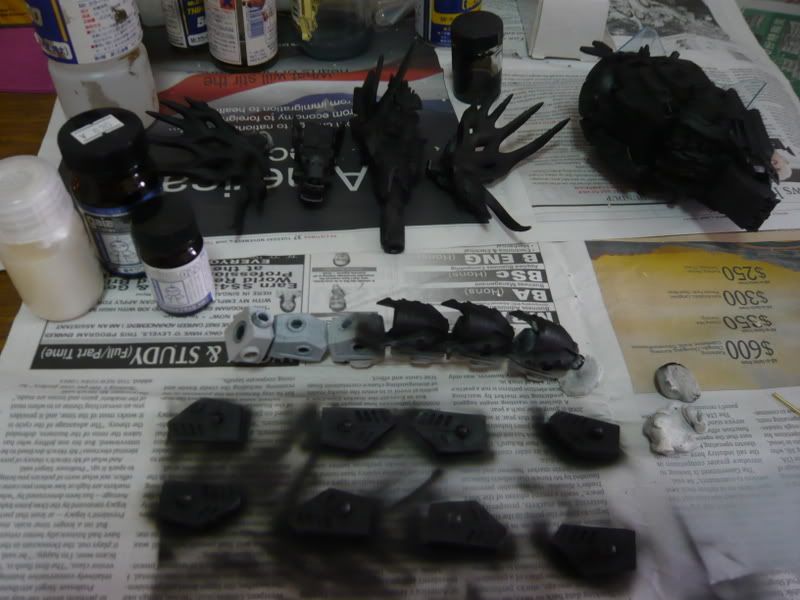 The Paint - I wanted something dark but yet shinny...
Well, I finally put my pearl paint brought during my Japan trip into good use.
First, I primed the model with Mr Hobby's 1200 Gray primer-in-a-can. Then I coat it with Gaia's Semi-gloss black.
Finally I poured my unnamed pearly goodness into a dispenser and dilute it with Mr Color Thinner till "milk" fluidity and spread away~. Shown here is the picture of the part after one coat of the diluted pearl paint(Left).
Note: This is just my way of spraying pearl paint as I did not understand the Japanese instruction to get the proper ratio of colored paint vs pearl paint....
Next, I wanted a secondary color to be having the same characteristic as the primary color. Dark and Shinny. So I have to use some clear color to overlay onto the primary color. So I chose clear purple. As Purple is a deep but still vibrant color.
Unfortunately, there is no clear purple on stock... So I improvised and used clear blue + clear red. Yes, that's a bird nest bottle that I recycled to store the mixture. And to make it more air tight, I taped around the cap and the brim of the bottle :)
Tips: Don't throw away your used masking tape! Use them to cover your paint during breaks to prevent dust from settling in.