Sunday, February 8, 2009
Labels: Kaiten, WIP, Zoids, 回天
0 comments

The Fins: My favorite part of the custom.
After googling for tons of seahorse images, I found my winning ticket in the left-over parts from last years entry's parts pile. The horns of Lanstag (
GZ-012:Lanstag
).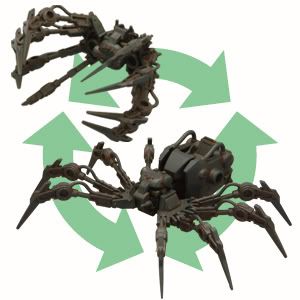 The origin fixture uses the Blox stub to hold the horn..I mean fins. It works but its too simple... I wanted something that shows control and strength.
While digging my stash of parts, I digged up millions of skinny legs from the Harpers (
CBZ-04:Harpers
) and decided to get rid of them.
After going through a few fittings, I managed to alter the legs to become piston joints to maneuver the fins. To add in more details, I used metal spring to doll up the hose and insert shorten safety pin into the spring to give it some contour.
Shown here is the comparison between the original Blox stub and the converted harpers piston system.